When you back up to PropelCLOUD, you have an easy method of making sure all your critical information is replicated and that it's secure and immediately available to you if and when you need it.
THE PROBLEM
(Natural Disasters | Equipment Failures | Cyberattacks | Human Error)
Disaster recovery planning is critical to business continuity. Many disasters that have the potential to wreak havoc on an IT organization have become more frequent in recent years: Natural disasters such as hurricanes, floods, wildfires, earthquakes, equipment failures, power outages and
Cyberattacks being the most common.
Many businesses with lean IT teams simply can't afford to take the time needed to research, implement and fully test disaster recovery plans. DRaaS takes the burden of planning for a disaster off of the organization and puts it into the hands of experts in disaster recovery. It can also be much more affordable than hosting your own disaster recovery infrastructure in a remote location with an IT staff standing by if disaster strikes. If a disaster doesn't happen, that expensive second infrastructure and staff never get used.
THE SOLUTION – Fully Managed DRAAS
PropelCLOUD DRaaS mirrors your complete infrastructure in fail-safe mode on virtual servers, including compute, storage and networking functions. During a disaster, an organization can continue to run applications— it simply runs them from PropelCLOUD's private disaster recovery cloud environment instead of from the disaster-affected physical servers. This means recovery time after a disaster can be much faster, or even instantaneous. Once the physical servers are recovered or replaced, the processing and data is migrated back onto them.
DRaaS is becoming the first choice of disaster recovery options for businesses thanks to significantly faster recovery times and lower costs than traditional solutions.
Key Disaster Recovery Features:
1. Continuous replication – Recovery times and recovery points measured in minutes.
2. Bandwidth optimization – Maximize performance and bandwidth by only sending small amounts of data on an ongoing basis.
3. End-to-end encryption – Maintain security & compliance with encryption in flight and at rest in our DR cloud.
4. Self-service or managed testing – Feel confident that your DRaaS solution will work when a disaster occurs.
5. Failback – Get systems and data back to the production site once the issue has been resolved.
6. Professional support – Don't do it alone. Make sure there's a team
of experts available.
Backup for your existing Cloud:
Already using the cloud for primary storage? Backing up a second copy with PropelCLOUD is a smart way to protect your data and ensure business continuity. Or if running an on-prem storage-area network with offsite tape backup, you can get an inexpensive third copy of your data that's immediately accessible in case your local storage goes offline and there isn't time to retrieve your tape backup. "Instant On" – Disaster Recovery.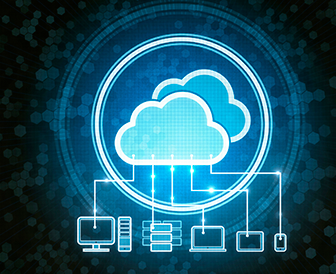 Failing to have a business continuity plan can lead to a business closing its doors. PropelCLOUD works with you to build an implementation plan for business continuity and disaster recovery. This helps businesses keep the most essential and pressing business processes in mind to get them back to business faster than ever.
Geographic diversity is an important disaster recovery term. It describes adequate distance between primary and secondary (or backup) sites. Geographic diversity is imperative when it comes to disaster recovery planning. Primary and secondary sites should have enough distance between each other to minimize the potential for a disaster, such as an outage, earthquake or storm, to take down both sites.
Minimize the impact of ransomware incidents on business continuity and ensure that your data is recoverable without paying the ransom. For ultimate data protection, we make backups immutable in our secure private cloud repositories and, thus, ransomware-proof during your requested data retention time period.